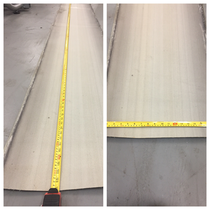 Just like brakes and rotors on a car wear out over time, so do treadmill belts and decks, especially when amp draw reaches a certain point . In many cases they both need to be replaced at the same time, because they wear together, so if you just replace the belt recheck the amp draw after installation to make sure it corrected the problem... 
When it comes time to selecting a walking belt, you will have two choices; 1) Original manufacturer parts or 2) Aftermarket parts..  The difference is always going to be quality which affects price, in general OEM parts are made better and are according to original spec, whereas aftermarket is made to hit a pricepoint.   It's a fair amount of effort to replace a belt so we recommend ponying up to get OEM..
In any event belts are measured by overall linear length and width, and are in terms of millimeters or inches, see the image in this blog for example.  We cut the belt at the roller to get the most accurate measurement, if you don't want to do this because you want to spare the old belt, you can measure one side and multiply by 2 for the full length.  This will help verify your'e buying the correct belt, as there are many many resellers of both OEM and aftermarket belts.  In many cases, you will have to convert the measurement to mm to make sense of the belts available for purchase.  
Always finish the job with a fresh coat of silicon treadlube, sold here.
If you are in the Chicagoland area and you have a worn out treadmill that you don't want to fix, hit us up, we'll pick it up for free.